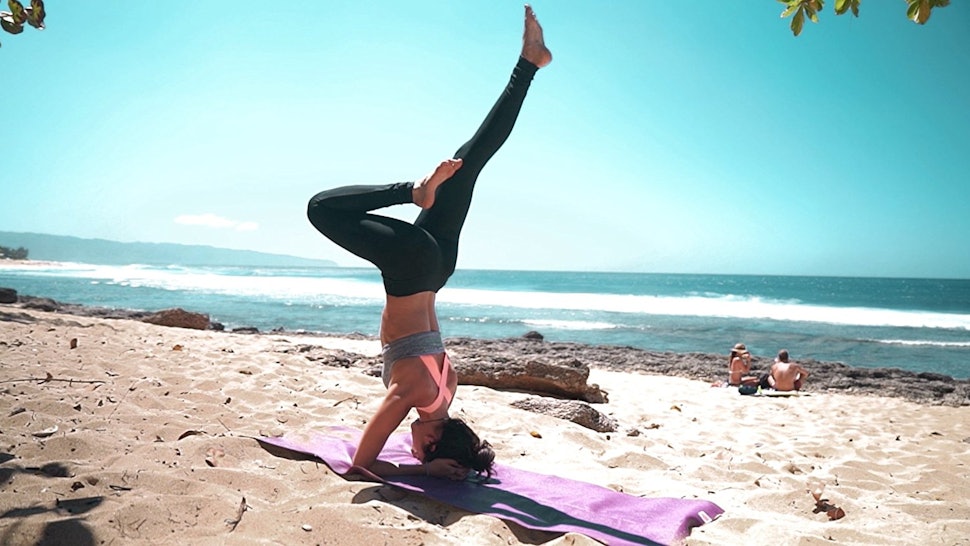 It's easy to establish a regular yoga practice at home, but traveling can throw you off track, and fast. However, there's good news for frequent travelers – yoga doesn't require a fancy classroom or equipment which means it's possible to maintain your yoga practice while traveling.
There is no excuse not to continue your yoga practice on the road, and you might even find that you experience greater benefits from yoga when you do it away from home. Travel is tough on the body. Long plane rides do damage to our skin, changing time zones exhaust and confuse our bodies, and we aren't sticking to our normal eating habits. But keeping up your usual yoga practice can help you to relieve stress and ease anxiety associated with traveling and leaving behind the creature comforts we're grateful for at home.
Travel is wonderful, but it can be stressful to the mind and body. Maintaining your yoga practice while traveling can help you stay grounded and keep your spirits high when you need it the most. Here are seven tips for doing yoga on the go:
Always pack a pair of yoga pants – You'll probably want a comfy pair of yoga pants for long plane or car rides anyway, so always pack a pair for practicing yoga on the go. Yoga pants are light, versatile, comfortable, and allow you to do yoga anywhere.
Use your imagination – If you usually use yoga straps or cushions, get creative. A scarf can serve as a temporary strap, and a rolled-up blanket or pillow can serve as a meditation cushion for restorative poses. Don't feel like you have to take all of your home equipment with you to practice yoga while traveling. Get creative and simplify your practice when you're away from home.
Don't Feel Like You Have to Take Your Yoga Mat

Yoga mats are light and easy to carry, but if you just don't have the room then it's ok to practice without one every once in a while. Don't let it be an excuse for skipping yoga while you travel.
Take Your Yoga Classes With You

If you prefer to do yoga with instructions from a teacher, play a video on YouTube or listen to a yoga podcast to guide you. There are plenty of virtual classes out there to guide you through your practice, or you can try out a new yoga studio in whatever city you find yourself in.
Have a Simple, Go-To Yoga Routine Prepared

If you travel frequently, have a go-to yoga routine noted down or committed to memory so that you can practice without guidance from a teacher. This will allow you to practice without putting too much thought or effort into your yoga practice when you're tired or would rather be out exploring a new city.
Give Yourself Some Wiggle Room

You shouldn't let your yoga practice fall by the wayside just because you're traveling, but you can allow yourself some freedom from your normal routine. It's ok to have a shorter practice or switch up your routine if a new location inspires it so give yourself some freedom to do what feels right.
Practice In the Morning

Most of us let our schedules loosen up while traveling. It's good to enjoy adventures all day long and a glass of wine during a relaxing vacation dinner, but these things can get in the way of your yoga practice. Instead, get your yoga out of the way first thing in the morning to help you feel accomplished, keep you calm all day, and guarantee that you fit it into your schedule.